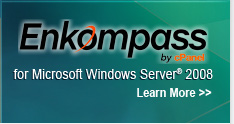 cPanel is a UNIX based web hosting control panel that provides a graphical interface and automation tools designed to make simpler the process of hosting a web site. cPanel utilizes a 3 tier structure that provides functionality for administrators, resellers hosting, and end-user website owners to control the several aspects of website and server administration through a standard web browser.
In addition to the GUI interface cPanel also has command line and API based access that allows third party software vendors, web hosting organizations, and developers to mechanize standard system administration processes.
cPanel is planned to function either as a dedicated server or virtual private server and it supports CentOS, Red Hat Linux, and FreeBSD.
cPanel, Inc is happy to publicize the release of Enkompass 2.0. This latest release represents a considerable evolution of the Enkompass product including:
• Emulation of cPanel & WHM's XML-API, an industry standard for billing computerization.
• Support for Classic ASP in addition to more ASP configuration options
• Re-designed bandwidth monitoring system, allowing additional flexibility.
• Re-written backup system, lowering resource usage and providing added restoration control
• Numerous significant user interface refinements beginning the moment you login
• Several performance and resource usage enhancements
Enkompass currently supports Classic ASP, ASP.NET, ASP.NET 2.0/3.5 and ASP.NET 4.0. This can be configured on a per-account basis by a server administrator or reseller. Furthermore, by granting the 'Configure ASP.NET Framework' role to web site owners, they can configure their account via the Web Site Owner interface. As well available is the option to switch between Classic and Integrated Pipeline Mode.
Enkompass 2.0 also introduces new measures to prevent malicious activity. Amongst them are two Tweak Settings: Commonly Spoofed Domain Protection and External Domain Protection. Commonly Spoofed Domain Protection prevents the use of usually spoofed domains like cPanel.net and Google.com. External Domain Protection stops someone from registering an account on your Enkompass deployment using domains previously managed by your local DNS.